2018 | OriginalPaper | Buchkapitel
4. GLIC Control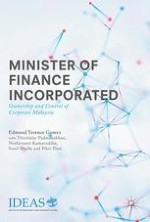 Erstes Kapitel lesen
Autoren: Edmund Terence Gomez, Thirshalar Padmanabhan, Norfaryanti Kamaruddin, Sunil Bhalla, Fikri Fisal
Verlag: Springer Singapore
Abstract
This chapter analyses the control mechanisms employed by the government when dealing with the seven GLICs. The primary control mechanisms used are legislation, public policies, business groups and pyramiding, and directorships and investment panels. The chapter reviews each of these control mechanisms carefully, tracing how they are employed by the government to control the GLICs and the GLCs it owns.
Since five of these GLICs are statutory bodies—PNB and Khazanah are companies—this chapter examines the legislation that governs how they operate. In these pieces of legislation, attention is also paid to the authority that the Minister of Finance has over the GLICs, to determine their investment patterns as well as approve senior appointments, specifically members of the board of directors. The legislation overseeing LTAT and LTH accords with the fact that other federal ministers have jurisdiction over these GLICs. This chapters analyses in depth the backgrounds of the directors of these GLICs as well as the members of their investment panels.
A thorough analysis of board members and investment panel members reveals a clear decline of UMNO presence in the corporate sector. A major finding is that a new breed of corporate professionals has taken over the management of the GLICs, occupying positions on both the boards of directors and the investment panels. Crucially, the important posts of managing directors of the GLICs and GLCs are occupied by a group from the professional elite. This professional elite ensures that the GLICs and GLCs are able to perform well, though they remain subservient to Minister of Finance.
The GLICs function primarily as investment holding companies, with a business group control structure that serves as an important mechanism for one institution to control a large number of enterprises. For this reason, the corporate holdings structures of the seven GLICs as they stood in 2013 are presented and analysed in this chapter. These figures indicate that a number of quoted GLCs come under the umbrella of each GLIC. These quoted GLCs, in turn, function as business groups, involving the use of a holding company—and, in some cases, cross-holdings—reflecting that this is an extremely important corporate control mechanism. The GLICs, collectively, have common shareholdings of a range of publicly listed firms, though in numerous cases one of them has majority ownership. Block shareholding of listed enterprises, including through obscure private firms, is common among the GLICs. Block shareholdings help safeguard the collective majority ownership that GLICs have over major quoted companies.