2016 | OriginalPaper | Buchkapitel
Global Context – Arctic Importance: Free, Prior and Informed Consent, a New Paradigm in International Law Related to Indigenous Peoples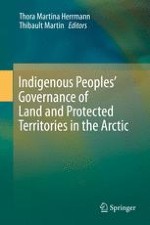 Erstes Kapitel lesen
Autor: Leena Heinämäki
Abstract
In international law, a fundamental shift is currently occurring in State-Indigenous relations, which can be seen as culminating in the adoption of the UN Declaration on the Rights of Indigenous Peoples, and at its endorsement of the right of indigenous peoples to self-determination and a free, prior and informed consent (FPIC) in the decisions that concern them.
This chapter aims to study and analyze FPIC in the light of multiple important developments that have prepared and pushed states to slowly accept that indigenous peoples cannot be seen merely as objects of protection but must be recognized as serious actors and as "partners" with and within the nation states. When implemented, the right to FPIC has positive effects on the important issues such as indigenous peoples' land use and governance. This is of a particular importance in the Arctic that is the homeland for a great number of indigenous peoples.
The article starts with a general overview over the past decades, to show how a paradigm shift has emerged and is currently evolving in international law concerning the rights and the status of indigenous peoples, in order to understand and give weight to the concept and the right of FPIC. After this overview, setting a necessary context to FPIC, this chapter moves on to take a closer look at the right of FPIC itself, and how it is articulated in indigenous rights instruments as well as in the case law and observations of human rights monitoring bodies. Examples are given from Arctic areas when merited. Examples from other areas, however, are not less valid should the same circumstance prevail in one of the Arctic countries, since international law naturally binds all the states.