2013 | OriginalPaper | Buchkapitel
1. Global Material Flows and Their Environmental Impacts: An Overview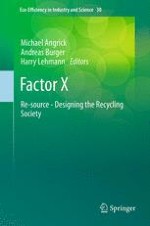 Autor: Uwe R. Fritsche
Verlag: Springer Netherlands
Abstract
Since several decades, material flows are increasing globally and – in parallel – are increasingly discussed in the environmental domain of science and policy.
The concept of material flows is presented and discussed with regard to its origins and the methodologies used to analyse and model resource and material flows through economies, and societies are presented.
Furthermore, the resource flows between countries – i.e. trade – for selected commodities are presented.
Next, the issues of metrics and indicators – i.e. what to measure – are addressed, and data sources are briefly identified.
The material "burden" of countries, regions and products is characterized regarding environmental impacts from resource use and downstream flows.
Finally, some perspectives on the overall sustainability of resource use are presented.