2017 | Supplement | Buchkapitel
6. Global Trends in Employment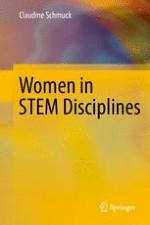 Erstes Kapitel lesen
Autor: Claudine Schmuck
Abstract
After exploring the issue of women in STEM studies, the second part of the survey focuses on women in STEM jobs. The goal is to draw a first set of observations from the corpus of data that are available worldwide. First is by looking at women's level of employment and remuneration in STEM based on the exploitation from public and global databases at regional level. The results of the research show that the proportion of women working in STEM sectors remains well below 50 % in the world. Then we rely on private research to identify some elements of explanation for women high turnover rate in STEM jobs.
To begin with the analysis is focused on the three groups of countries that have been identified in the surveys' first part: those where the feminization of STEM is catching up (the Middle East and North Africa, South-West Asia), those where it remains high (East Asia as well as Central and Eastern Europe) or declining (North America and Western Europe, Central Asia and Latin America). Regarding access to the labour market, the Middle East and North Africa and South-West Asia are regions where women labour force participation rate is the lowest in the world. Conversely sub-Saharan Africa is the region where it's one of the highest, but this is due to integration of own-account jobs in statistics. Overall these regions are those where the lowest proportion of women is observed in STEM jobs, with the exception of South Africa in sub-Saharan Africa, where women represent more than 40 % of employees working in energy, construction, transportation and information and communication. In the so-called "sustaining" group (East Asia as well as Central and Eastern Europe), women represent more than 50 % of all people in professional, scientific and technical activities, with the exception of Turkey and Ukraine. However while in Central and Eastern European countries the remuneration difference is below the national average in most countries, it tends to be higher in most East Asian nations. In the last group (North America and Western Europe), graduated women have the best level of employability; however, the proportion of women in STEM jobs is beginning to decrease as a result of the decline of the proportion of women among STEM graduates.
The high turnover rate of women in STEM jobs is a matter of great concern. Thus the 2015 and 2016 online surveys focus on identifying elements of explanation for that situation. Research has demonstrated that this high attrition rate is a result from organization of work (strong presenteeism culture), lack of career management and work/life balance, as well as a feeling of exclusion/isolation. Data from the online survey compares perceptions of STEM versus non-STEM workers. These surveys benchmark women/men's perception of work organization, career and work/life balance (WLB) and fulfillment (Source: "Women in science and technology – the business perspective", European Commission, 2006). Thus they rely on indicators that measure and compare perception of working conditions (with a focus on "flexitime", teleworking and part-time work), career management (looking at remuneration, grade promotion, personal development training and network development) and WLB (based on analysis of family care support, local or on-site service implementation). They demonstrate that men and women share an equal level of motivation and interest in their job and show that women working in STEM benefit from the greater application of flexible working processes; however the benefits for women are limited by the fact that it is frequently a practice that is cumulated with long hours at work. Regarding career management, the results demonstrate that women working in STEM face a situation that is similar to that experienced by women working in other sectors. The issue of work/life balance which has been found to be most critical for women with children, since after the birth of a child women have more often than men the responsibility of taking care of the family organization, is the one on which the level of implementation of policies is lower than in other sectors.