2007 | OriginalPaper | Buchkapitel
Globalization and biogeochemical cycles in the environment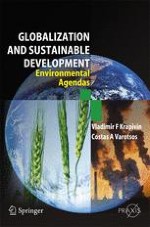 Erstes Kapitel lesen
Verlag: Springer Berlin Heidelberg
The interaction between abiotic factors and living organisms in the biosphere drives the continuous cycle of matter in nature. Different forms of living organisms absorb substances that are essential for their growth and the sustaining of life. Under this mechanism the products of metabolism and other complex mineral and organic compounds of chemical elements are discharged in the environment in the form of unassimilated food or dead biomass. As a result the stable sequence of global biogeochemical cycles underpinned biosphere evolution. Their disturbance within the second part of the 20th century posed humankind many principal questions related with unforeseen climate change due to the greenhouse effect, decrease in biodiversity, progressive desertification, etc. In reality, questions about what will happen to the Earth's climate and the prospects for ozone layer decrease remain unresolved in spite of enormous amounts of money spent on their study (Kondratyev and Varotsos, 2001a, b; Varotsos, 2002, 2005). At present it is clear that answers to these and other questions related to nature protection depend on finding a means of creating an effective global monitoring system based on the global model of the nature/society system (GMNSS). Simulation of the biogeochemical cycles of basic chemical elements is a fundamental part of the GMNSS (Kondratyev
et al.
, 2002; Zhu and Anderson, 2002). Exactly such an approach gives us the possibility to optimize the anthropogenic fluxes of pollutants and to determine acceptable emissions of carbon, chlorine, sulfur, fluorine, methane, and other chemical elements to the environment, when finally the ideology behind the Kyoto Protocol becomes a reality, as well as to regulate questions related with the commerce of quotas for greenhouse gas emissions (Kalb
et al.
, 2004; Dalby, 2002; Fogg and Sangster, 2003; Kasimov
et al.
, 2004; Kondratyev, 2005a).