2014 | OriginalPaper | Buchkapitel
10. GOCE Gravity Gradients: Reprocessed Gradients and Spherical Harmonic Analyses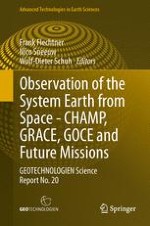 Erstes Kapitel lesen
Autoren: Michael Murböck, Claudia Stummer, Roland Pail, Weiyong Yi, Thomas Gruber, Reiner Rummel
Verlag: Springer Berlin Heidelberg
Abstract
Detailed analyses of the original GOCE data have shown that specific improvements can be achieved by a Level 1b (L1b) processor update Stummer et al. (
2011
,
2012
). In the first part of this work the four processor update steps are discussed, and the impact on GOCE gravity fields is shown. The largest improvements occur in the lower spherical harmonic (SH) degrees. But furthermore significant improvements of the sectorial SH coefficients up to high SH degrees can be achieved. Therefore also combined models based on GOCE and GRACE data benefit from the reprocessed L1b data Pail et al. (
2012
). The second part of this study gives an overview of the operational GOCE Quick-Look (QL) models, which have been computed as part of ESA's calibration/valida-tion activities. These QL gravity field solutions give consistent and realistic estimates of GOCE gravity fields, with short latency. It is shown that already the first GOCE QL models revealed important new gravity field information contained in GOCE data. One of the results of QL processing is a realistic estimate of the observation noise of all GOCE gradiometer components. Based on this stochastic information, the goal of the last part of this work is a formal error validation of three recent GOCE-only models. The time-wise approach pail (
2011
) leads to the most realistic formal errors.