2019 | OriginalPaper | Buchkapitel
Government Control of the Cyber Economy Based on the Technologies of Industry 4.0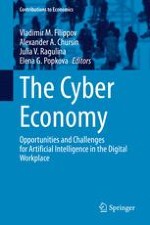 Erstes Kapitel lesen
Autoren: Mikhail A. Kovazhenkov, Gilyan V. Fedotova, Ruslan H. Ilyasov, Yury A. Nikitin, Natalia E. Buletova
Abstract
Purpose
: The purpose of this chapter is to evaluate the effectiveness of the application of government tools to manage the current digitization of Russian society. We analyze the specific measures that are implemented in a number of countries for the market subjects of digital tools and analyze the existing normative documents on the implementation of the philosophy of Industry 4.0 in Russia.
Government control of the transition to the cyber economy is impossible without a normative and legal basis for the interactions in this sphere. In this chapter, the authors focus on the list of adopted documents, purposes and tasks of implementation, and the indicators of target planning on informatization.
An adequately selected list of target indicators will determine future government policy for the process of informatization in all spheres of the national economy. The indicators for government measures that are set at the planning stage should correspond with the final results.
Methodology
: The following methods are used: comparative analysis of data, dynamic assessment, comparison, analogy, and systematization.
Results
: Through the study of the main normative and legal documents of government control that determine the possibilities and potential directions for the informatization of the Russian economic system an assessment of the achieved results of informatization in certain spheres of the socioeconomic environment is performed. The main target indicators for digitization and the future landscape of the Russian cyber economy are considered; achievements in the transition to Industry 4.0 are studied; and conclusions on the possible successes in various spheres of public and economic life in Russia are made.
Recommendations
: The current tools for government control over the processes for the informatization of Russian society should be reconsidered in respect to certain tasks and target indicators for the future transition to full digitization of all spheres of the national economy.