01.04.2019 | Research Article | Ausgabe 4/2019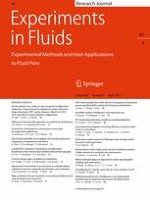 GPU-based, parallel-line, omni-directional integration of measured pressure gradient field to obtain the 3D pressure distribution
Zeitschrift:
Autoren:

Jin Wang, Cao Zhang, Joseph Katz
Wichtige Hinweise
Publisher's Note
Springer Nature remains neutral with regard to jurisdictional claims in published maps and institutional affiliations.
Abstract
The introduction of 3D time-resolved velocity measurement techniques enables calculation of the instantaneous pressure distribution by spatially integrating the material acceleration. This paper introduces an efficient method for 3D integration of the acceleration, which does not require prescribed Dirichlet boundary condition on one of the surfaces, minimizes the propagation of errors in acceleration, and can be easily utilized in flows with complex boundaries. This parallel-line, omni-directional integration procedure (Omni3D) calculates the pressure at every point by integration from all directions, while avoiding regions with large acceleration errors. To reduce the computational costs, the calculations are performed by a GPU-based algorithm, which determines the 3D pressure field from tomographic PIV data in 1 min. The accuracy of Omni3D is compared to that of several techniques, including procedures based on solving the Pressure Poisson Equation (PPE) with different Dirichlet boundary conditions. The error analysis is based on Direct Numerical Simulation (DNS) data for isotropic turbulence, synthetic 3D PIV images for turbulent channel flow generated from DNS data, and experimental data. It examines the effects of spatial resolution, propagation, and avoidance of embedded local errors, boundary conditions, method for calculating the velocity, as well as viscous and sub-grid stresses on the calculated pressures. For acceleration fields with low errors and properly specified boundary conditions, Omni3D and PPE give similar results. However, Omni3D is more effective in suppressing the effects of acceleration errors. Sample experimental results including instantaneous plot of pressure, pressure statistics, and pressure–velocity correlations based on tomographic PIV data are also provided.
Graphical abstract
×