2018 | OriginalPaper | Buchkapitel
GPU Computations and Memory Access Model Based on Petri Nets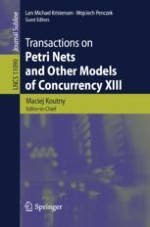 Erstes Kapitel lesen
Autoren: Anna Gogolińska, Łukasz Mikulski, Marcin Piątkowski
Verlag: Springer Berlin Heidelberg
Abstract
In modern systems CPUs as well as GPUs are equipped with multi-level memory architectures, where different levels of the hierarchy vary in latency and capacity. Therefore, various memory access models were studied. Such a model can be seen as an interface abstracting the user from the physical architecture details. In this paper we present a general and uniform GPU computation and memory access model based on bounded inhibitor Petri nets (PNs). Its effectiveness is demonstrated by comparing its throughputs to practical computational experiments performed with the usage of Nvidia GPU with CUDA architecture.
Our PN model is consistent with the workflow of multithreaded GPU streaming multiprocessors. It models a selection and execution of instructions for each warp. The three types of instructions included in the model are: the arithmetic operation, the access to the shared memory and the access to the global memory. For a given algorithm the model allows to check how efficient the parallelization is, and whether a different organization of threads will improve performance.
The accuracy of our model was tested with different kernels. As the preliminary experiments we used the matrix multiplication program and stability example created by Nvidia, and as the main experiment a binary version of the least significant digit radix sort algorithm. We created three implementations of the algorithm using CUDA architecture, differing in the usage of shared and global memory as well as organization of calculations. For each implementation the PN model was used and the results of experiments are presented in the work.