01.02.2011 | Original Contribution | Ausgabe 3/2011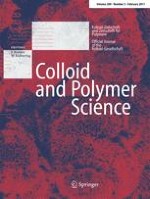 Grafting polyacrylates on natural rubber latex by miniemulsion polymerization
Zeitschrift:
Autoren:

Lakshiminarayanan Ragupathy, Ulrich Ziener, Graf Robert, Katharina Landfester
Wichtige Hinweise
Electronic supplementary material
The online version of this article (doi:
10.​1007/​s00396-010-2360-1
) contains supplementary material, which is available to authorized users.
Abstract
Grafting reactions between different acrylates (methyl, ethyl, butyl, hexyl, and lauryl) and natural rubber latex (NRL) were performed in miniemulsion. It is observed that polyacrylates with longer alkyl chain length, i.e., ≥4 carbons, only produce stable dispersions with the hydrophobic azo initiator 2,2′-azobis(2-methylbutyronitrile) (V59). Increasing the reaction temperature from 5 to 72 °C with different initiating systems increases the gel content of the butyl acrylate (BA)-modified NRL. Solid-state 1H MAS NMR was employed to accurately calculate the grafting efficiency of polyacrylate-modified NRL. Initiating systems such as 2,2′-azobis(4-methoxy-2.4-dimethyl valeronitrile) (V70) and cumene hydroperoxide yield the maximum grafting of ∼53 wt.% efficiency of BA (compared to the BA used) on NRL whereas an enzyme initiator yields the lowest grafting efficiency of 18.3 wt.%. The reaction with V59 as initiator shows the intermediate grafting efficiency of 37 wt.%. Increasing the BA amount from 16.4 to 26.6 wt.% increases the gel content to 47 and 68 wt.%, respectively. The grafting efficiency of BA on NRL is constant at ∼35 wt.% for BA contents from 16.4 to 22.7 wt.%, but for further increasing BA amount to 27 wt.%, a 3.7 times higher grafting efficiency of BA on NRL was observed compared to the other two lower concentrations of BA. Film-forming properties and DSC analysis were used to investigate the phase behavior of polyacrylate-blended and grafted NRL materials; transmission electron microscopy was used to investigate the morphology of BA-grafted NRL.