01.04.2013 | Ausgabe 2/2013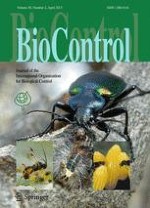 Granulovirus formulations efficiently protect stored and field potatoes from
Phthorimaea operculella

and

Tecia solanivora

in Costa Rica
Zeitschrift:
Autoren:

Yannery Gómez-Bonilla, Miguel López-Ferber, Primitivo Caballero, Rosa Murillo, Delia Muñoz
Wichtige Hinweise
Handling Editor: Helen Roy
Abstract
The control efficiency of a
Phthorimaea operculella
granulovirus isolate from Costa Rica (PhopGV-CR1) against the concurrent insect pests
P. operculella
(Zeller) and
Tecia solanivora
(Povolny) (Lepidoptera: Gelechiidae) was evaluated. In warehouses, the best control efficiency was achieved with a powder formulate applied inside bags, which reduced injury over 70 % compared with the untreated controls. In the field, liquid and powder virus formulations significantly reduced injury between 56.2 and 81.7 % compared with the untreated controls, and were as efficient as chemical treatments. The efficiency of formulations stored at −20 °C for six months (liquid) or at ambient temperature for three months (powder) was maintained, but higher temperatures and/or longer exposure times resulted in loss of pathogenicity. The data presented here favor the inclusion of granulovirus formulations of PhopGV-CR1 in Integrated Pest Management programs against tuberworms in Costa Rica and give clues on storage conditions for the growers in this country.