01.05.2021 | Ausgabe 5/2021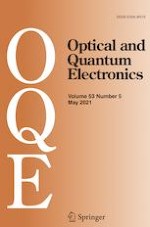 Graphene-based BPSK and QPSK modulators working at a very high bit rate (up Tbps range)
Zeitschrift:
Autoren:

A. J. Wirth-Lima, W. Bezerra-Fraga
Wichtige Hinweise
Publisher's Note
Springer Nature remains neutral with regard to jurisdictional claims in published maps and institutional affiliations.
Abstract
We are presenting graphene-based Binary Phase Shift Keying (BPSK) and Quadrature Phase Shift Keying (QPSK) modulators, which can operate in the range from the TeraHertz up to the infrared. It is noteworthy that these devices have huge advantages over the silicon Mach–Zehnder optical modulators (MZMs) with lateral PN-junction rib-waveguide phase shifters. Among the countless advantages, we can mention, for example, that these modulators consist of only one waveguide and have a much simpler application system of the modulator signal (gate voltage) than in silicon-based MZMs. Other huge advantages are greater efficiency, and yet, they are cheaper and have shorter lengths [and consequently, greater integration in photonic integrated circuit (PIC)]. The first step to present these modulators was to detail the graphene theory that is involved in this device. After this step, we show the project, numerical simulations, and analyses related to our graphene-based BPSK and QPSK modulators. We believe that these modulators will contribute to the generation of new devices made up of 2D materials, which should revolutionize this area of science.