01.08.2013 | Ausgabe 4/2013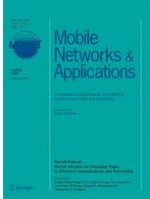 Green Access Point Selection for Wireless Local Area Networks Enhanced by Cognitive Radio
Zeitschrift:
Autoren:

Wendong Ge, Shanzhi Chen, Hong Ji, Xi Li, Victor C. M. Leung
Wichtige Hinweise
This paper is jointly sponsored by National Natural Science Foundation under Grant 61271182, Specialized Research Fund for the Doctoral Program of Higher Education 20120005120010, and National Youth Science Foundation under Grant 61001115. Part of this work was published in the Proceedings of IEEE ICC'2011.
Abstract
In wireless local area networks (WLANs) made up of Extended Service Sets, access point (AP) selection is a key issue to improve the network performance and balance the traffic load. WLANs operating in the shared Industrial, Scientific and Medical band can benefit from the use of cognitive radio (CR) techniques to enable dynamic access to spectrum holes that are free from interference. In this paper, we propose an optimal Green AP Selection (GAPS) scheme, in which AP selection is optimized to maximize the system throughput while minimizing the energy consumption, for multi-rate WLANs enhanced by CRs. Different from most existing AP selection schemes, GAPS takes into account of the state transition tendency of APs and the influence of Automatic Rate Fallback mechanism in the Distributed Coordination Function. The AP selection problem is formulated as a restless bandit problem and solved by the primal-dual index heuristic algorithm based on first order relaxation to yield the GAPS scheme with the "indexability" property and hence a low complexity. GAPS is further divided into offline computation, which accounts for the bulk of the computations, and online selection, with a low complexity to facilitate implementation. Extensive simulation results illustrate the significant performance improvements of GAPS compared with existing AP selection schemes in different scenarios.