01.01.2015 | Ausgabe 1/2015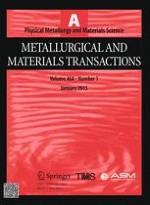 Green Approach to Corrosion Inhibition of Copper by the Extract of
Calligonum comosum

in Strong Acidic Medium
Zeitschrift:
Autoren:

Mehdi Shabani-Nooshabadi, Fatemeh Sadat Hoseiny, Yaser Jafari
Wichtige Hinweise
Manuscript submitted March 26, 2014.
Abstract
The corrosion inhibition effect of
Calligonum comosum
(CC) extract on copper (Cu) in 2 mol L
−1
HCl medium has been investigated by potentiodynamic polarization and electrochemical impedance spectroscopy methods. The polarization studies showed that CC extract acts as mixed type protection and maximum inhibition efficiency. 80.06 pct in 2 mol L
−1
HCl is obtained at 0.8 g L
−1
CC extract. The Nyquist plots showed an increase of the charge-transfer resistance with increasing of the inhibitor concentration and decrease double-layer capacitance. The inhibitory action of the extract was discussed in view of the Langmuir adsorption isotherm.