2018 | OriginalPaper | Buchkapitel
Green Bonds: A Key Catalyst Within the Broader Subject of Climate Finance Post COP21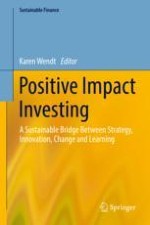 Erstes Kapitel lesen
Autor: Frank Damerow
Executive Summary
Climate change is happening and related risks are of increasing concern to a broad range of stakeholders from the broader public, including regulators and institutional investors.
We need to fund the transition to a low carbon and climate resilient economy. The IEA says that to avoid "catastrophic" global warming and get the world on a 2 °C emissions trajectory requires USD53 trillion in cumulative investment in energy supply and energy efficiency up to 2035 (IEA,
Energy and climate change
. World Energy Outlook Special Report, 2015; IEA,
Energy and climate change
. World Energy Outlook Special Briefing for COP21, 2016).
Other studies estimate that
USD5–6 trillion per year
will be required over the next 15 years solely to invest in infrastructure to support the transition to a low-carbon economy. An estimated 60% of this amount would need to be invested in new infrastructure in developing countries, the remainder replacing existing infrastructure in developed countries (Global Economy and Development (2015), Driving Sustainable Development through better Infrastructure: Key Elements of a Transformation Program.)
Action has been left so late that even with increased mitigation and adaption activity, global warming of 2 °C can be expected.
Trillions in additional finance will be needed to address climate adaptation, and adaption costs are expected to rise over proportionally with a global warming trajectory exceeding 2 °C.
Niche financing solutions will not be sufficient, and neither will public sector funds alone. The USD100 trillion debt capital markets are the dominant global source of capital. Accessing debt markets to fund the transition is essential.
Green bonds can significantly contribute to funding the transition to a low carbon economy and are now widely recognised as a crucial instrument to fund the transition to a low carbon economy.
The first green bond was issued in 2007 by the European Investment Bank (EIB). Since then, the number of issuers from different sectors has increased steadily. Green bonds fund eligible green assets or projects.
Labelling bonds enables investors to discover green investment opportunities that help meet their responsible investment mandates or commitments. They are recognized as one effective tool to mitigate climate related externalities.
After COP21 ratification (
http://​unfccc.​int/​paris_​agreement/​items/​9444.​php
), institutional investor demand for these types of investments is rapidly rising. The supply side has only been developing gradually, but is expected to be scaled over the years to come on the back of various political, legislative, regulatory and voluntary initiatives of a multitude of stakeholders—increasingly in a consolidated effort. The article looks at the current state of the green/climate bond universe, and investigates recent developments and in and around the labelled green bond space.