2017 | OriginalPaper | Buchkapitel
4. Green Economy as a Framework for Product-Service Systems Development: The Role of Sustainable Living Labs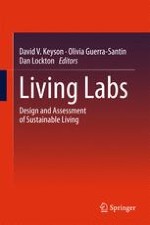 Erstes Kapitel lesen
Autoren: Carolin Baedeker, Christa Liedtke, Maria Jolanta Welfens
Abstract
This chapter focuses on the role of Sustainable Living Labs for the implementation and diffusion of low resource and sustainable Product-Service Systems (SPSS) in a "Green Economy". In recent years the concept of "Green Economy" has emerged as a strategic priority for governments and intergovernmental organisations. Several governmental and industrial strategies reflect aspects of a variety of its definition searching for implementation of its principles. Therefore, we will start off by giving an overview of different definitions of the green economy showing its relevance for micro-oriented approaches. Subsequently, eight key areas of intervention in a Green Economy, which set up the frame and orientation of our sustainable Living Lab (SLL) approach (Sect.
4.1
), are presented. The Sect.
4.2
deals with the relevance of Living Labs for the transformation process of the socio-economic regime. This process consists of changing the production-consumption systems towards sustainability through modifying processes and SPSS on the micro level. SLL focuses on sustainability innovations and offers a number of new characteristics reflecting the intervention arenas, which are described in Sect.
4.3
. The Sustainable Living Lab approach offers fundamental sustainability-oriented research infrastructure, in which relevant actors are actively integrated into the development, design and testing of new PSS aiming for the transition of our sociotechnical regime towards sustainability. SLL use a three-phase-model as their methodological framework, a description of which is also provided in Sect.
4.3
. The actor integrated innovation process is described in a case study from Germany dealing with one of the most relevant areas of needs: heating and airing. It shows a high potential of social innovation for sustainable development. This could foster a more human need oriented and low investment technical development of low-resource SPSS. (see Sects.
4.4
and
4.5
). The chapter concludes with an outlook (Sect.
4.6
).