01.04.2015 | Original Paper | Ausgabe 4/2015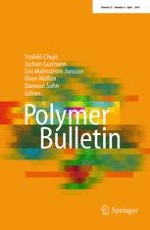 "Green synthesis" and characterization of a maleated epoxidized natural rubber latex
Zeitschrift:
Autoren:

Duangporn Riyapan, Sa-Ad Riyajan, Agnieszka Kowalczyk
Abstract
The objective of this present work was to prepare the epoxidized natural rubber (ENR)-
g
-maleic anhydride (MA) (ENR-
g
-MA) polymer, from ENR latex using K
2
S
2
O
8
as an initiator. The chemical structure of the ENR-
g
-MA was confirmed by FTIR. The evidence for formation of a graft copolymer was found at 1,790 cm
−1
owing to the chemical reaction between the ENR and the MA carbon atom. With an increase in the MA content, the particle size and zeta potential of the maleated ENR particle increased due to the change in the chemical composition on the surface of the ENR particles. The swelling ratio decreased with an increase of the MA content due to both the crosslinking and the hydrophilic group from the grafting between the ENR and MA. However, the percentage grafting decreased with an increase of the MA content. This was due to the many side reactions such as chain scission and chain transfer reactions.