2020 | OriginalPaper | Buchkapitel
Green Synthesis and Characterization of Silver Nanoparticles Using Fresh Leaf Extract of
Aloe vera barbadensis Miller, Aloe vera

and

Sempervivum tectorum

and Its Antimicrobial Activity Studies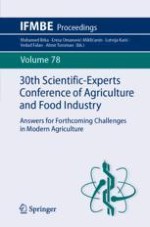 Erstes Kapitel lesen
Autoren: Anera Kazlagić, Amela Lagumdžija, Berina Borovac, Saud Hamidović, Odej Ali Abud, Enisa Omanović-Mikličanin
Abstract
New advances in technology have inspired the development and application of new products in food industry, which brings to new challenges featuring food safety. Demands from consumers for more natural foodstuff are increasing, which puts aside conventional methods for controlling the microbial growth, such as thermal processing or adding chemical preservatives. New methods are being highlighted, due to features such as controlling microbial growth without damaging the product. Nowadays, nanotechnology is considered as promising technology for the food industry in general, as well as for new methodologies in the entire agri-food chain.
The use of plant extract while synthesizing metal nanoparticles represents an eco-friendly and promising alternative to traditional chemical methods. In this study, a new green method of preparing silver nanoparticles (AgNPs) using fresh leaf extract of
Aloe vera barbadensis Miller
,
Aloe vera
and
Sempervivum tectorum
has been proposed. Antimicrobial activity study was assessed using Kirby-Bauer test, commonly known as disc diffusion method. AgNPs demonstrated antimicrobial activity against
Salmonella spp
. but showed no effect on
Escherichia coli
. This study indicates that AgNPs synthesized this way could be a new potential candidate for use in agricultural, biological, and pharmaceutical applications for fighting infections caused by microorganisms.