02.11.2016 | Original Paper: Nano-structured materials (particles, fibers, colloids, composites, etc.) | Ausgabe 3/2017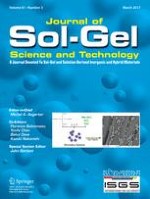 Green synthesis of copper oxide nanoparticles/clinoptilolite using
Rheum palmatum L.

root extract: high catalytic activity for reduction of 4-nitro phenol, rhodamine B, and methylene blue
Zeitschrift:
Autoren:

Maryam Bordbar, Zeinab Sharifi-Zarchi, Bahar Khodadadi
Abstract
Copper oxide nanoparticles have been immobilized on the surface of clinoptilolite using
Rheum palmatum L.
root extract as a reducing and stabilizing agent in this work. FT–IR spectroscopy, UV–Visible spectroscopy, X-ray diffraction pattern, scanning electron microscopy, energy dispersive X-ray spectroscopy, and transmission electron microscopy have been used to characterize clinoptilolite, copper oxide nanoparticles, and copper oxide nanoparticles/clinoptilolite. Catalytic activity of the prepared catalysts was studied in the reduction of 4-nitrophenol, methylene blue, and rhodamine B in the presence of sodium borohydride in water at ambient temperature. Copper oxide nanoparticles/clinoptilolite was found to be a highly active catalyst in the corresponding reactions. In addition, copper oxide nanoparticles/clinoptilolite can be recovered and recycled several times with no appreciable loss of catalytic activity.
Graphical Abstract