01.03.2015 | Original Paper | Ausgabe 6/2015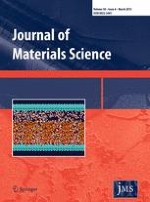 Green synthesis of photoactive nanocrystalline anatase TiO2 in recyclable and recoverable acidic ionic liquid [Bmim] HSO4
Zeitschrift:
Autoren:

Satwant Kaur Shahi, Navneet Kaur, Amanpreet Kaur, Vasundhara Singh
Wichtige Hinweise
Electronic supplementary material
The online version of this article (doi:
10.​1007/​s10853-014-8799-6
) contains supplementary material, which is available to authorized users.
Abstract
This is the first report of a facile and green method for the synthesis of nanocrystalline anatase TiO2 in an acidic room temperature ionic liquid 1-buty-3-methylimidazolium hydrogen sulphate [Bmim] HSO4 as an acidic hydrolysing and templating/structure directing agent avoiding the use of corrosive mineral acids and surfactants, respectively. The effect of calcination temperature was studied at 100, 350, 550 and 750 °C to obtain samples S-1 to S-4, respectively, and the effect on morphology, phase, surface area and band gap of TiO2 was investigated using XRD, TEM, (UV–Vis) diffuse reflectance spectroscopy, BET surface area and Raman spectroscopic techniques. It was observed that with an increase in temperature of calcination, the phase of TiO2 nanoparticles remained anatase, while the morphology of the particles was both spherical and cubic in nature with particle size varying between 4 and 30 nm. The ionic liquid used was both recoverable and recyclable up to three cycles. The photocatalytic activity of the samples was tested for the degradation of methyl orange as the model compound under ultraviolet light. The nanoparticles of TiO2 calcined at 550 °C showed high photocatalytic activity.