2017 | OriginalPaper | Buchkapitel
Greenhouse Gas Emission Reduction Using Advanced Heat Integration Techniques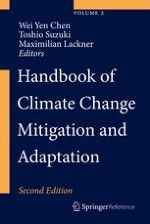 Erstes Kapitel lesen
Autoren: Kailiang Zheng, Helen H. Lou, Yinlun Huang
Abstract
Consuming about 20 % of total energy annually in the USA (according to DOE in 1994), the chemical industry is a major source of greenhouse gas (GHG) emissions. It has been widely recognized that a significant reduction of energy consumption and GHG emissions in chemical processes must implement advanced heat integration technologies in a holistic way.
Heat integration is a family of technologies for improving energy efficiency. The technologies can be applied to the design of heat exchanger networks, heat-integrated reaction-separation systems, etc. Pinch analysis is the foundation of heat integration. In this chapter, the applicability of pinch technology in GHG emission reduction is reviewed first. Furthermore, the concept of "total site," which is valuable for energy targeting and integration at regional level, is described. A "total site" includes not only traditional industrial processes but also commercial and residential energy users into the scope.
Then, more advanced concepts in heat integration are introduced. The concepts are developed based on the observation of problems arising in heat integration applications – stability of heat-integrated systems in operation. The known modeling work addressing these issues will be reviewed thoroughly. The basic principles on how the disturbance-propagation-rejection models for these major chemical processing systems can be adopted in process synthesis and analysis stages will be discussed.
The concept of "total site" has been further extended to greenhouse gas emission targeting and reduction. Carbon dioxide (CO2) emission-focused pinch analysis methodology is reviewed, which is valuable for obtaining the optimal energy resource mix of fossil fuel and renewable energy for the regional or national energy sector.