2013 | OriginalPaper | Buchkapitel
Ground Systems for Satellite Application Systems for Navigation, Remote Sensing, and Meteorology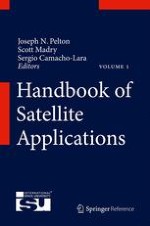 Erstes Kapitel lesen
Autoren: Dr. Scott Madry, Joseph N. Pelton, Dr. Sergio Camacho-Lara
Verlag: Springer New York
Abstract
The technology, the applications, and the economic forces that have driven the design, functionality, and performance of ground systems for satellite communications have been very closely mirrored in the other major application satellite services. It is for this reason that this chapter combines consideration of the ground systems for satellite navigation, remote sensing, and meteorology. In essence, all the ground systems for the various applications are communications systems. Although the radio frequencies, modulation, and multiplexing methods and encryption schemes utilized vary for a variety of reasons – including defense and military-related consideration, all application satellites employ satellite communications between the spacecraft and the ground system. Some systems are broader or narrower in bandwidth and some only involve down links while other are more interactive with up and down links.
The common elements that range across the ground systems for all application satellites include the following:
All application satellites have become higher in power, more accurate in their stabilization and pointing of their onboard antennas and better able to deploy higher gain and larger aperture reflectors. This has allowed ground systems to be smaller, more compact, lower in power, lower in cost, and more widely distributed.

Down-linked information is often encrypted to protect the integrity of information and data relayed from the satellite – particularly if there is a proprietary or defense-related application for the down-linked information.

Solid-state digital technology associated with integrated circuitry, application-specific integrated circuits (ASICs), and monolithic devices that have allowed the ground systems to be more highly distributed.

There are essentially two tracks in ground systems development – one where geosynchronous satellites are involved and the ground system can be constantly pointed toward a single fixed point in the sky and the other where the ground system must have the ability to receive signals across the horizon and capture signals from a satellite that moves across the sky. Both types of ground receivers suited to "fixed" or "non-fixed" signal reception are needed in satellite communications, remote sensing, meteorological satellites, and satellite navigation.

In addition to the user terms associated with different types of applications, there is a need for a tracking, telemetry, and command system to ensure the safe operation of the application satellite.
Despite these elements of commonality, there are indeed differences in the ground systems, the antenna characteristics, their tracking capabilities, the frequency utilized, the degree to which the data is protected by encryption, and the need for expert analysis of the data received from the spacecraft.