01.06.2006 | Report | Ausgabe 5/2006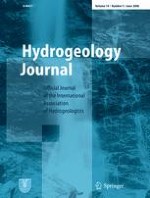 Groundwater study using remote sensing and geographic information systems (GIS) in the central highlands of Eritrea
Zeitschrift:
Autoren:

Semere Solomon, Friedrich Quiel
Abstract
Remote sensing, evaluation of digital elevation models (DEM), geographic information systems (GIS) and fieldwork techniques were combined to study the groundwater conditions in Eritrea. Remote sensing data were interpreted to produce lithological and lineament maps. DEM was used for lineament and geomorphologic mapping. Field studies permitted the study of structures and correlated them with lineament interpretations. Hydrogeological setting of springs and wells were investigated in the field
,
from well logs and pumping test data. All thematic layers were integrated and analysed in a GIS. Results show that groundwater occurrence is controlled by lithology, structures and landforms. Highest yields occur in basaltic rocks and are due to primary and secondary porosities. High yielding wells and springs are often related to large lineaments, lineament intersections and corresponding structural features. In metamorphic and igneous intrusive rocks with rugged landforms, groundwater occurs mainly in drainage channels with valley fill deposits. Zones of very good groundwater potential are characteristic for basaltic layers overlying lateritized crystalline rocks, flat topography with dense lineaments and structurally controlled drainage channels with valley fill deposits. The overall results demonstrate that the use of remote sensing and GIS provide potentially powerful tools to study groundwater resources and design a suitable exploration plan.