01.09.2014 | Original Article | Ausgabe 3/2014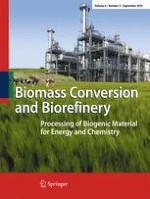 Growth and butanol production by
Clostridium sporogenes BE01

in rice straw hydrolysate: kinetics of inhibition by organic acids and the strategies for their removal
Zeitschrift:
Autoren:

Lalitha Devi Gottumukkala, Binod Parameswaran, Sajna Kuttavan Valappil, Ashok Pandey, Rajeev Kumar Sukumaran
Abstract
Growth inhibition kinetics of a novel non-acetone forming butanol producer,
Clostridium sporogenes BE01,
was studied under varying concentrations of acetic and formic acids in rice straw hydrolysate medium. Both the organic acids were considered as inhibitors as they could inhibit the growth of the bacterium, and the inhibition constants were determined to be 1.6 and 0.76 g/L, respectively, for acetic acid and formic acid. Amberlite resins—XAD 4, XAD 7, XAD 16, and an anion exchange resin—Seralite 400 were tested for the efficient removal of these acidic inhibitors along with minimal adsorption of sugars and essential minerals present in the hydrolysate. Seralite 400 was an efficient adsorbent of acids, with minimal affinity towards minerals and sugars. Butanol production was evaluated to emphasize the effect of minerals loss and acids removal by the resins during detoxification.