01.05.2019 | Ausgabe 5/2019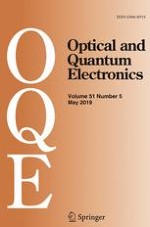 Growth and characterization studies on L-threoninium p-toluenesulfonate monohydrate crystal
Zeitschrift:
Autoren:

P. Prabu, R. Aarthi, C. Ramachandra Raja
Wichtige Hinweise
Publisher's Note
Springer Nature remains neutral with regard to jurisdictional claims in published maps and institutional affiliations.
Abstract
L-threoninium p-toluenesulfonate monohydrate (LTPTM) (IUPAC name: 1-carboxy-2-hydroxypropan-1-aminium 4-methylbenzenesulfonate monohydrate), a new organic nonlinear optical (NLO) crystal, is grown by solution growth method at room temperature. It crystallizes in monoclinic crystal system with noncentrosymmetric space group P2
1
. Presence of NH
3
+
and SO
3
−
vibrations in IR and Raman spectra confirms the formation of LTPTM molecule. The
1
H and
13
C nuclear magnetic resonance (NMR) spectra establish the molecular structure. In the
1
H–NMR spectrum of LTPTM, the chemical shift corresponding to H-SO
3
(6.57 ppm) of p-toluenesulfonic acid monohydrate is absent. This is due to the fact that the hydrogen in H–SO
3
is released and combines with the amine group of
l
-threonine. This ensures the formation of LTPTM molecule. The O5-H5A…O3 intermolecular interaction is also established by the observed upfield shift of COOH group in LTPTM molecule. The crystal is thermally stable up to 73 °C. LTPTM is transparent from 235 to 1100 nm. The second harmonic generation (SHG) conversion efficiency of LTPTM is 0.77 times that of KDP. Third order nonlinear optical susceptibility (χ
(3)
) of the title crystal is 1.3035 × 10
−7
esu which is higher than some reported NLO crystals.