2017 | OriginalPaper | Buchkapitel
GSDF: A Generic Development Framework for Swarm Robotics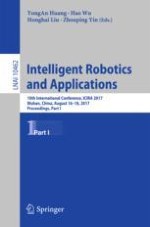 Erstes Kapitel lesen
Autoren: Xuefeng Chang, Zhongxuan Cai, Yanzhen Wang, Xiaodong Yi, Nong Xiao
Abstract
Programming swarm robots is considered to be more challenging than developing single robot applications, mostly due to the unpredictable behaviors and complex coordination of the swarm. In this paper, we present
GSDF
, a generic development framework for swarm robotics, to promote both programmability and flexibility. In its core lies a lightweight runtime, which maintains all the swarm-related data structures in a decentralized manner. The runtime is based on the design of a
two-level communication graph
, which decouples intra- and inter-robot communications. On the intra-robot level, existing popular messaging mechanisms, such as that of the Robot Operating System (ROS), can be adopted to reuse programming resources in the ROS eco-system. On the inter-robot level, the framework presents an abstract communication layer. It provides a unified communication interface to the framework runtime, and hence makes the framework agnostic to underlying communication mechanisms.
GSDF
also provides a clear interface to facilitate programming robot swarms, including prescribed tools for swarm management and information sharing. Finally, we demonstrate the feasibility and efficiency of
GSDF
using a couple of experiments in robotic simulators.