2006 | OriginalPaper | Buchkapitel
Guembelitria irregularis Bloom at the K-T Boundary: Morphological Abnormalities Induced by Impact-related Extreme Environmental Stress?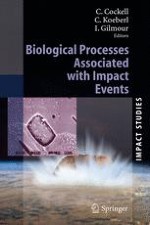 Erstes Kapitel lesen
Autoren: Rodolfo Coccioni, Valeria Luciani
Verlag: Springer Berlin Heidelberg
The planktonic foraminiferal species Guembelitria irregularis displays an aberrant test due to the irregular disposition and growth of the chambers which suggest a morphological malformation. Available data across the Cretaceous-Tertiary (K-T) transition from three Tunisian sections (El Kef II, Elles II, Ain Settara) and Kazakhstan (Koshak) and new data from Spain (Caravaca), and Italy (Erto), show a dramatic and remarkable increase in abundance of G. irregularis (up to 93% at El Kef II) in the small 38–63 µm fraction of the assemblages from the lower Danian planktonic foraminiferal Zones P0-P1a. Positive peaks in the abundance of this form are also recorded in the latest Maastrichtian, even though with minor percentages (up to 16% at El Kef II). Fossil and Recent foraminiferal tests showing morphological abnormalities have long been reported from stressed environments. Accordingly, we speculate that the morphological abnormalities shown by the G. irregularis test across the K-T boundary are the result of the extremely stressful environmental conditions related to the complex interplay of different events (rapid and extreme climate fluctuactions, sea-level changes, intense volcanism, and impact events, which characterize the last hundreds of thousand of years of the Cretaceous and the beginning of the Danian. In particular, the post-K-T morphological abnormality of G. irregularis may be related to high stress conditions induced by the K-T impact.