30.12.2017 | Original Paper | Ausgabe 9/2018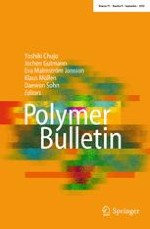 Gum
Dammar

and poly(acrylamide)-based hydrogels and zirconium-based organic-inorganic hybrid materials for controlled drug delivery and their biodegradation studies
Zeitschrift:
Autoren:

Pooja Sharma, Rajeev Jindal
Abstract
The present research work was aimed at the use of pre-synthesized Gum
Dammar
and poly(AAm)-based polymeric networks (hydrogel) and zirconium-based Gd-cl-poly(AAm)-ZIO organo-inorganic hybrid networks (ion exchanger) for in situ release of metformin hydrochloride under different pH conditions such as 4.0, 7.0 and 9.2 at 37 °C. Further biodegradation studies of the samples were also done using soil burial and soil composting method. It has been observed from the release dynamics of the drug that the diffusion exponent '
n
' under different pH conditions is between 0.1 and 0.7 in case of hydrogel and between 0.09 and 0.7 in case of organo-inorganic hybrid material. It can be inferred from the values of the '
n
' that the release of drug in different pH conditions is pH responsive. Hence these materials can be exploited as drug delivery devices. The initial diffusion coefficient has a greater value than the later diffusion coefficient indicating a higher drug release rate during the early stage. Different stages of biodegradation were characterized using scanning electron microscopic studies.