01.08.2014 | Ausgabe 15/2014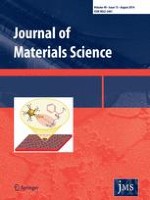 H-bonding driven assembly of colloidal Au nanoparticles on nanostructured poly(styrene-
b

-ethylene oxide) block copolymer templates
Zeitschrift:
Autoren:

A. Evelyn Di Mauro, Vincenzo Villone, Chiara Ingrosso, Michela Corricelli, Lorea Oria, Francesc Pérez-Murano, Angela Agostiano, Marinella Striccoli, M. L. Curri
Wichtige Hinweise
Electronic supplementary material
The online version of this article (doi:
10.​1007/​s10853-014-8184-5
) contains supplementary material, which is available to authorized users.
Abstract
A facile, cost-effective, and general solution-based "bottom-up" method for nanopatterning dense arrays of colloidal Au nanoparticles (NPs) has been developed. The organization of the NPs has been successfully achieved onto a microphase-separated poly(styrene-
block
-ethylene oxide) (PS-
b
-PEO) block copolymer (BCP) thin film which acts as structural template. The NP assembly process occurs by incubating the BCP films in dispersions of the ex situ synthesized Au NPs, not requiring any chemical pre-treatment or activation step of the copolymer surface, and has demonstrated to be distinctively controlled by multiple, cooperative, and selective hydrogen bonding interactions between hydroxyl functionalities of the capping molecules coating the Au NP surface and the hydrophilic PEO block. The effect of incubation time and concentration of NPs on the selectivity of the assembly has been investigated by atomic force and scanning electron microscopy. The results show that the BCP pattern is preserved after decoration with the Au NPs. The fabricated nanopatterns are good candidates for nanostructure integration in sensing and optoelectronic applications, as well as in memory devices and photonic systems. Moreover, the proposed immobilization protocol represents a model system that can be extended to other NPs having different compositions and surface chemistries.