13.04.2020 | Chemical routes to materials | Ausgabe 20/2020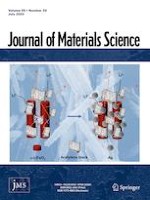 H3PW12O40-doped pyromellitic diimide prepared via thermal transformation as an efficient visible-light photocatalyst
Zeitschrift:
Autoren:

Xiaoyi Huang, Wang Wang, Xia Liu
Wichtige Hinweise
Electronic supplementary material
Publisher's Note
Springer Nature remains neutral with regard to jurisdictional claims in published maps and institutional affiliations.
Abstract
We prepared the H
3
PW
12
O
40
-doped pyromellitic diimide (PMDI) photocatalysts via thermal transformation using urea phosphotungstate and pyromellitic dianhydride as precursors (UPWPI) and calcination of PMDI with phosphotungstic acid directly (UPIPW). The influences of the strategies on the morphology, light absorption, and visible-light photocatalytic degradation efficiency of H
3
PW
12
O
40
-doped PMDI are systematically investigated by various characterization methods. By comparing the structure of UPWPI and UPIPW, the adoption of urea phosphotungstate as precursors can promote the separation of PMDI into small particles and the inclusion of phosphotungstic acid. Moreover, the visible-light (
λ
 > 420 nm) absorption efficiency of UPWPI is also enhanced compared with that of UPIPW because of the improved photogenerated electron transfer efficiency between PMDI and HPW. With a catalyst dosage of 100 mg and the degradation time of 3 h, the photocatalytic degradation efficiency of imidacloprid on UPWPI was 97.12% and the degradation rate constant was 0.93 h
−1
.