2017 | OriginalPaper | Buchkapitel Open Access
1. Habitats and Biota of the Gulf of Mexico: An Overview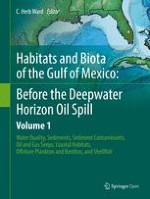 Autoren: C. Herb Ward, John W. Tunnell Jr.
Verlag: Springer New York
Abstract
An overview of 13 chapters that assess baseline conditions and status of habitats and biota in the Gulf of Mexico before the Deepwater Horizon oil spill in 2010. Brief summaries of water and sediment quality, energy flow—including natural oil and gas seeps, coastal and offshore habitats, major groups of biota and their diseases and mortalities, and commercial and recreational fisheries are provided. Biodiversity in the Gulf is high, but environmental impacts are numerous and varied and most occur within the coastal zone.