18.05.2020 | Ausgabe 8/2020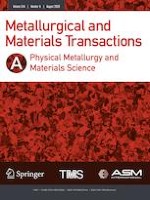 Hardening Through an Ultrafine Carbide Precipitation in Austenite of a Low-Carbon Steel Containing Titanium and Tungsten
Zeitschrift:
Autoren:

Zhenqiang Wang, Jiandong Wang, Haokai Dong, Yanyuan Zhou, Fengchun Jiang
Wichtige Hinweise
Manuscript submitted November 25, 2019.
Publisher's Note
Springer Nature remains neutral with regard to jurisdictional claims in published maps and institutional affiliations.
Abstract
In this study, a significant hardening effect was obtained in a low-carbon steel containing Ti and W by performing a 20 pct hot compressive deformation and 60 seconds stress relaxation at 1148 K to 1198 K (875 °C to 925 °C) in the austenite region. TEM observation indicated that the hardening effect in martensite and bainite was closely associated with a fine dispersion of ultrafine precipitates with particle size of 1 to 10 nm at peak hardness. These ultrafine precipitates were identified as W, Fe-rich (WFeTi)C carbides with MC-type B1 structure, the crystal parameter of which is quite similar to austenite matrix. The precipitation mechanism of these ultrafine particles is discussed and the strength increment from precipitation hardening is estimated by applying a structure-based strength model and microstructure characterization.