2017 | OriginalPaper | Buchkapitel
HARE: A Hybrid Abstraction Refinement Engine for Verifying Non-linear Hybrid Automata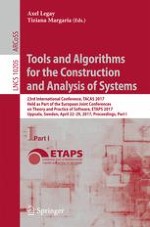 Erstes Kapitel lesen
Autoren: Nima Roohi, Pavithra Prabhakar, Mahesh Viswanathan
Verlag: Springer Berlin Heidelberg
Abstract
(Hybrid Abstraction-Refinement Engine) is a counterexample guided abstraction-refinement (CEGAR) based tool to verify safety properties of hybrid automata, whose continuous dynamics in each mode is non-linear, but initial values, invariants, and transition relations are specified using polyhedral constraints.
works by abstracting non-linear hybrid automata into hybrid automata with polyhedral inclusion dynamics, and uses
to validate counterexamples. We show that the CEGAR framework forming the theoretical basis of
, makes provable progress in each iteration of the abstraction-refinement loop. The current
tool is a significant advance on previous versions of
—it considers a richer class of abstract models (polyhedral flows as opposed to rectangular flows), and can be applied to a larger class of concrete models (non-linear hybrid automata as opposed to affine hybrid automata). These advances have led to better performance results for a wider class of examples. We report an experimental comparison of
against other state of the art tools for affine models (
,
, and
) and non-linear models (
,
, and
).