2012 | OriginalPaper | Buchkapitel
Harvesting Solar Energy Using Inexpensive and Benign Materials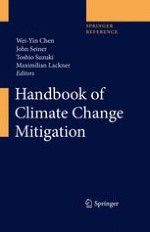 Erstes Kapitel lesen
Autoren: Susannah Lee, Melissa Vandiver, Balasubramanian Viswanathan, Prof. Dr. Vaidyanathan (Ravi) Subramanian
Verlag: Springer US
Abstract
Historically, the growth and prosperity of human civilization has mainly been propelled by fossil energy (coal and petroleum) usage. Decades of tested and proven technologies has led to a continuous increase in demand for fossil-based fuels. As a result, we are now finding ourselves at the threshold of a critical tipping point where environmental consequences and global climate can be irreversibly affected and hence cannot be ignored. More than ever before, our unending and rapidly growing need for energy has necessitated urgent action on efforts to examine alternative forms of energy sources that are eco-friendly, sustainable, and economical.
There are several alternatives to fossil-based fuels. These include biomass, solar, wind, geothermal, and nuclear options as prominent and possible sources. All these options can assist us with reducing our dependence on fossil fuels. Solar energy, being one of them, has the unique potential to meet a broad gamut of current global energy demand. These include domestic applications such as solar-assisted cooking, space, heating, as well as industrial processes such as drying. Solar energy utilization in several key areas such as electricity generation (photovoltaics), clean fuel production (hydrogen), environmental remediation (photocatalytic degradation of pollutants), and reduction of greenhouse gases (CO2 conversion to value-added chemicals) is also of great interest. A key challenge that must be addressed to boost commercialization of solar energy technologies, and common to these applications, is material properties and solar energy utilization efficiency. To realize large-scale and efficient solar energy utilization, application-based materials with a unique combination of properties have to be developed. The material has to absorb visible light, be cost competitive, composed of earth abundant elements, and nontoxic, all at the same time.
This chapter consists of ten sections. The first introduction section consists of a detailed discussion on the importance of energy in human activity, the effects of fossil fuels on climate and human lifestyle, and materials that meet many of the above criteria. The second section provides a short and critical comparison of solar energy with other alternatives. The third section provides a quick review of the basic concepts of solar energy. The commonly employed toolkits used in the characterization of materials for solar energy conversion are discussed in section four. Some of these tools can be used to evaluate specific optical, electronic, and catalytic properties of materials. Section five discusses the main categories of materials that are either commercialized or under development. The challenges to developing new materials for solar energy conversion are addressed in section six. Section seven outlines some of the main strategies to test the promising materials before a large-scale commercialization attempt is initiated. Section eight profiles companies and institutions that are engaged in efforts to evaluate, improve, and commercialize solar energy technologies. This segment provides information about the product from a few representative companies around the world and their niche in the commercial market. Section nineprovides a general outlook into the trend in solar energy utilization, commercialization, and its future. Finally, section ten provides the authors' concluding perspective about the solar energy as a pathway for reducing our dependence on fossil fuels. At the conclusion of this chapter, we have also provided over 100 references that are highly recommended for further in-depth study into various aspects of solar energy.