01.06.2009 | Original Paper | Ausgabe 2/2009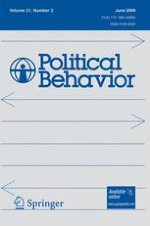 Has Television Personalized Voting Behavior?
Zeitschrift:
Autor:

Danny Hayes
Abstract
Scholars and political observers have suggested that television has "personalized" voting behavior in American presidential elections by encouraging citizens to cast ballots on the basis of candidate image and personality. Though an oft-heard assertion, little solid evidence exists that this is true, and the reinvigoration of partisanship and the persistence of ideological conflict suggest personalization may be less pervasive than supposed. In this paper, I use National Election Studies data to examine whether voters are more concerned with candidates' personal characteristics now than they were at the outset of the television era. I find, however, that voters are no more likely today to mention candidate personality as a reason for their vote choice than they were in the 1950s and 1960s. Moreover, while personality affects voting behavior, its influence on candidate choice is not significantly larger than it was a half-century ago. The results are not contingent on exposure to television or political awareness and are insensitive to different measures of perceptions of candidate image. The findings are consistent with the resurgence of partisan voting in American elections and suggest that some concerns about TV's effects on political judgment are exaggerated.