2017 | OriginalPaper | Buchkapitel
HC-0C-07: Isolation and Characterisation of Crude Oil Degrading Microorganisms from Petrochemical Wastewater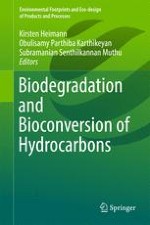 Erstes Kapitel lesen
Autoren: Chooi Yit Heng, Madihah Md. Salleh, Adibah Yahya, Zaharah Ibrahim, Huszalina Hussin
Verlag: Springer Singapore
Abstract
Bacteria with the abilities to degrade crude oil were isolated from soil, activated sludge and biological treatment lagoon of the local petrochemical industries. For the biodegradation process, n-alkanes, of varying carbon chain length, C
16
–C
38,
were used. Out of the 12 cultures of bacteria isolated, 3 of the best oil degraders were partially identified via biochemical tests; 2 of which were
Acinetobactor
spp while another one belonged to
Proteus
sp. Degradation of the n-alkanes in crude oil was monitored under agitated and non-agitated condition using gas chromatography technique. Generally, non-agitated cultures showed higher degradation rates. One of the
Acinetobacter
sp. showed the highest degradation rate, in which 80–100 % of the alkanes (C
16
–C
38
) in crude oil was degraded without any addition of organic nitrogen and phosphorus. It is of interest to highlight another of the
Acinetobacter
sp. which showed the ability to degrade longer chain alkanes more rapidly than shorter ones; C
36
and C
38
were fully degraded in 2 days. Only one bacterium,
Proteus
sp showed increased rates of degradation under agitated condition.