13.11.2017 | Ausgabe 3/2018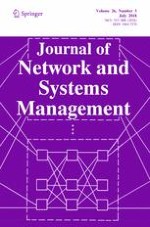 HE-MAN: Hierarchical Management for Vehicular Delay-Tolerant Networks
Zeitschrift:
Autoren:

Ewerton M. Salvador, Daniel F. Macedo, José Marcos S. Nogueira
Wichtige Hinweise
The authors would like to thank CNPq, CAPES, FAPEMIG, and CEMIG/ANEEL for their financial support in this work.
Abstract
Vehicular Ad Hoc Networks (VANETs) are mobile networks that extend over vast areas and have intense node mobility. These characteristics lead to frequent delays and disruptions. A solution is to employ the Delay Tolerant Network (DTN) paradigm. However, the frequent disruptions as well as the delay and reliability constraints of certain VANET applications hinder the employment of both conventional and DTN-based management architectures. We present the HiErarchical MANagement (HE-MAN) architecture, which considers the specificities of Vehicular Delay-Tolerant Network (VDTN) management. The HE-MAN architecture implements a hierarchical management topology in order to take advantage of local communication opportunities for monitoring and configuration tasks. The proposed techniques for network clustering, monitoring, and configuration are evaluated using simulations, and results show that the proposed architecture successfully organizes the VDTN in relatively stable clusters, leading to more intelligent and efficient management of VDTN nodes through the usage of middle-level managers.