2019 | OriginalPaper | Buchkapitel
4. Health System and Health Expenditure Productivity Changes in Indian States: Has It Changed for the Better in the Post-reform Period?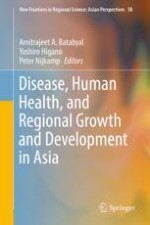 Erstes Kapitel lesen
Autoren: Debashis Acharya, Biresh K. Sahoo, T. K. Venkatachalapathy
Verlag: Springer Singapore
Abstract
In this chapter, we make an attempt to examine the health system productivity changes and health expenditure productivity changes for 17 major Indian states in the post-reform period. The time period of 2004–2005 to 2014–2015 is chosen owing to consistent availability of data. Further, an attempt is made to see if the states' income growth has any role in their behaviour of health system/expenditure productivity change. Both the productivity changes are calculated in per capita terms too. The selection of inputs and outputs for measuring productivity changes are guided by consistent availability of data across the states for our time period. The results of productivity changes are mixed in nature, though all the productivity changes are volatile as depicted by the coefficient of variation. Some of the measures witness higher fluctuation in the last 3 years of the study. Some of the possible reasons may be attributed to the nature of allocation of health expenditure in the revenue and capital accounts. Most of the states have legislated the Fiscal Responsibility and Budget Management Bill by now. This might have constrained the states to spend adequately on health. Moreover, health being primarily state subject governance in the sector in terms of proper allocation of budget and timely utilisation of the budget allocated matters a lot for the infrastructure to be in place.