2013 | OriginalPaper | Buchkapitel
13. Health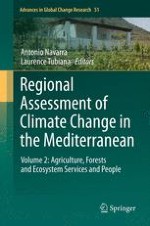 Erstes Kapitel lesen
Autoren: Tanja Wolf, Klea Katsouyanni, Antonis Analitis, Afif Ben Salah, Elsa Casimiro, Sadok Chlif, Daniela D'Ippoliti, Bettina Menne, Paola Michelozzi, Xavier Rodo, Miquel Angel Rodriguez-Arias
Verlag: Springer Netherlands
Abstract
This chapter presents a review and new scientific evidence on climate change health risks in the Mediterranean. It summarizes the results of the work of the research line on health in CIRCE, which focused on two examples of health risks related to climate change: 1. heat and air pollution and 2. infectious diseases.Responsible authors differ for the specific thematic sections: Sect.
13.2
: Tanja Wolf, Bettina Menne; Sect.
13.3
: Klea Katsouyanni, Antonis Analitis, Paola Michelozzi, Daniela D'Ippoliti; Sect.
13.4
: Miguel Angel Rodriguez-Arias, Tanja Wolf, Xavier Rodo, Afif Ben Salah; Sadok Chlif; Sect.
13.5
: Tanja Wolf, Elsa Casimiro, Bettina Menne.