01.02.2013 | Original Paper | Ausgabe 1/2013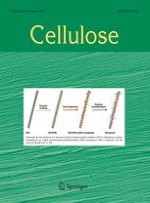 Hemp fiber (
Cannabis sativa

L.) derivatives with antibacterial and chelating properties
Zeitschrift:
Autoren:

Roberta Cassano, Sonia Trombino, Teresa Ferrarelli, Fiore Pasquale Nicoletta, Maria Vittoria Mauro, Cristina Giraldi, Nevio Picci
Abstract
The aim of this study was to synthesize a new antibacterial and chelating biopolymer and to evaluate its germicidal activity and its ability in metal ions removal from aqueous solutions. The material was prepared via esterification of hemp with 2-benzyl-4-chlorophenol, a germicide agent, that was covalently coupled to cellulose backbone of hydrophilic fibers by a heterogeneous synthesis, to produce a functionalized biopolymer with a satisfactory degree of substitution. The obtained biopolymer was characterized by infrared spectroscopy and differential scanning calorimetry. Its antibacterial activity in inhibiting
Staphylococcus aureus
and
Pseudomonas aeruginosa
growth in Petri dishes, was evaluated. The results suggested that this biomaterial possesses an excellent in vitro antibacterial activity and so it can be efficiently employed in biomedical fields to ensure a protection against contaminations. On the other hand, the functionalized biopolymer interacts with metal ions thanks to its chelating functional groups. The absorption capacity for a selected metal ion such as Cd(II), was investigated in aqueous solution at pH 0.65, 4.1 and 7.0 by optical emission spectroscopy. This study showed that the new system is very effective in chelating cadmium ions showing the maximum efficiency at pH 4.1. This feature makes the synthesized biomaterial a potential candidate for metal ions removal.
Graphical Abstract
Hemp fiber (
Cannabis sativa
L.) derivatives with antibacterial and chelating properties. Roberta Cassano, Sonia Trombino, Teresa Ferrarelli, Fiore Pasquale Nicoletta, Maria Vittoria Mauro, Cristina Giraldi, Nevio Picci
×