06.01.2021 | Ausgabe 2/2021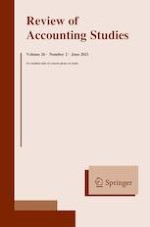 Heterogeneity in expertise in a credence goods setting: evidence from audit partners
Zeitschrift:
Autoren:

Daniel Aobdia, Saad Siddiqui, Andres Vinelli
Wichtige Hinweise
This research paper, formerly titled "Does engagement partner expertise matter? Evidence from the U.S. operations of the Big 4 audit firms," was prepared while Daniel Aobdia was a Senior Economic Research Fellow in the Center for Economic Analysis at the Public Company Accounting Oversight Board (PCAOB). Saad Siddiqui is an Associate Director of Economic Modeling, and Andres Vinelli a former Chief Economist at the PCAOB. The PCAOB, as a matter of policy disclaims responsibility for any private publication or statement by any of its Economic Research Fellows and employees. The views expressed in this paper are the views of the authors and do not necessarily reflect the views of the board, individual board members, or staff of the PCAOB. We thank Paul Fischer (the editor), two anonymous referees, Mary Barth, Jeremy Bertomeu, Preeti Choudhary, Lauren Cunningham (discussant), Mark DeFond, Ron Dye, George Georgiadis, Michael Gurbutt, Chris Hogan, Robert Knechel, Patricia Ledesma, Robert Magee, Miguel Minutti-Meza, Stephen Taylor (discussant), Luigi Zingales, PCAOB staff, and the seminar participants at the 2017 Financial Accounting and Reporting Section (FARS) Midyear Meeting, the Seventh International conference of the Japanese Accounting Review, Michigan State University, the PCAOB, the 2016 School of Accountancy Research Symposium at Singapore Management University, Université Laval, and the University of Louisville for helpful discussions on earlier versions of this work. Daniel Aobdia acknowledges financial support from the Kellogg School of Management and, in particular, the Lawrence Revsine Fellowship.
Supplementary Information
Publisher's note
Springer Nature remains neutral with regard to jurisdictional claims in published maps and institutional affiliations.
Abstract
We examine the heterogeneity of experts in a credence goods setting. In our analytical model, clients are uncertain about how much effort experts need to provide to solve their problem, which is either simple or difficult. Experts have varying degrees of expertise. Less qualified experts are equally effective at solving simple problems but less effective at solving difficult ones. We show that clients pay a fee premium to more qualified experts, even for simple problems. This premium increases with the probability that the client has a difficult problem. We empirically test the model predictions in the context of partner industry expertise for the U.S. operations of the Big Four audit firms. We find, consistent with the model, a positive association between partner industry specialization and audit fees, even for simple audits, and a negative association between partner specialization and the client's probability of restatements only for difficult audits. The industry specialization premium is higher in industries with higher proportions of difficult audits. Consistent with credence good agency issues, the specialization premium for simple audits is mitigated when information asymmetry between client and auditor is lower.