01.08.2014 | Short Communication | Ausgabe 8/2014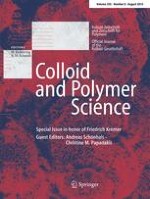 Heterogeneous behavior of free chain-ends in a lamellar diblock copolymer: segmental dynamics and ordering, as probed by 2H solid-state NMR
Zeitschrift:
Autoren:

Cédric Lorthioir, Bertrand Deloche
Wichtige Hinweise
A few personal words dedicated to Prof. Dr. Friedrich Kremer
We had the chance to meet regularly Prof. Dr. Friedrich Kremer and always learnt a lot from the fruitful discussions that we had together. We are impressed by his great expertise in both fundamental and instrumental aspects of broadband dielectric spectroscopy, an expertise that has significantly served – and still serves – the various research topics he is interested in, mostly in the field of polymer dynamics. We would like to emphasize the originality of his work, combined with his high scientific standards. His personal qualities - in particular his kind and openminded attitude - rendered our changes always very pleasant and stimulating.
Abstract
The segmental dynamics and orientational ordering for the free chain ends of a strongly segregated diblock copolymer, poly(styrene)-
b
-poly(dimethylsiloxane) (PS-
b
-PDMS), self-assembled into a lamellar structure, was investigated with
2
H solid-state NMR. The dynamical behavior of the free PDMS chain extremities, selectively deuterated, was probed in a temperature regime intemathrmediate between the PS and PDMS glass transition temperatures. The temperature dependence of the
2
H spin-lattice relaxation time indicates a decrease of the characteristic segmental time for such chain ends, compared to the one detemathrmined for all the PDMS repeat units. This faster segmental dynamics was rationalized by a temperature shift estimated to about 8 K.
2
H transverse relaxation measurements and double-quantum build-up curves led to a description of the local constraints experienced by the chain ends, within the lamellar domains. More than two thirds of them display anisotropic reorientations over the tens of microseconds time scale. The corresponding distribution of the orientational order parameter was found to be similar to the one displayed for all the PDMS units of the copolymer, suggesting a repartition of the chain ends throughout the entire lamella. This behavior results from the contribution of the entropy related to the chain extremities. The description of this ordering of the free chain ends suggests the occurrence of a significant fraction of folded PDMS chains, within the lamellae.