23.07.2015 | Focus | Ausgabe 9/2016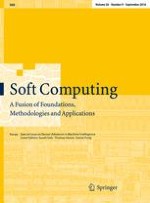 Heuristic algorithm based on molecules optimizing their geometry in a crystal to solve the problem of integer factorization
Zeitschrift:
Autoren:

Mohit Mishra, Utkarsh Chaturvedi, K. K. Shukla
Wichtige Hinweise
Communicated by S. Deb, T. Hanne and S. Fong.
Abstract
Integer factorization is a vital number theoretic problem finding frequent use in public key cryptography, and other areas like Fourier transforms. There has been growing interest among researchers in innovative alternative approaches to solving the problem by modeling some optimizing natural or biological behaviour in a form of an algorithm that can be used to solve the problem provided the problem can be represented as an optimization task. In this paper, we present a new model based on computational chemistry behind how molecules interact among each other to minimize their surface energy potential in a typical crystal. While this phenomenon itself is a research problem, it interestingly provides a new way of solving other problems like integer factorization which can be represented in different forms of discrete optimization task. However, we must note that the present methods based on such models are not scalable to the real-world scenario, and we present a brief discussion on this issue.