2018 | OriginalPaper | Buchkapitel
Hierarchical Clustering of High-Dimensional Data Without Global Dimensionality Reduction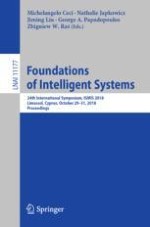 Erstes Kapitel lesen
Autoren: Ilari Kampman, Tapio Elomaa
Abstract
Very few clustering algorithms can cope with a high number of dimensions. Many problems arise when dimensions grow to the order of hundreds. Dimensionality reduction and feature selection are simple remedies to these problems. In addition to being somewhat intellectually disappointing approaches, both also lead to loss of information.
Furthermore, many elaborated clustering algorithms become unintuitive for the user because she is required to set the values of several hyperparameters without clear understanding of their meaning and effect.
We develop PCA-based hierarchical clustering algorithms that are particularly geared for high-dimensional data. Technically the novelty is to describe data vectors iteratively by the their angles with eigenvectors in the orthogonal basis of the input space. The new algorithms avoid the major curse of dimensionality problems that affect cluster analysis.
We aim at expressive algorithms that are easily applicable. This entails that the user only needs to set few intuitive hyperparameters. Moreover, exploring the effects of tuning parameters is simple since they are directly (or inversely) proportional to the clustering resolution. Also, the clustering hierarchy has a comprehensible interpretation and, therefore, moving between nodes in the hierarchy tree has an intuitive meaning.