27.06.2018 | Electronic materials | Ausgabe 20/2018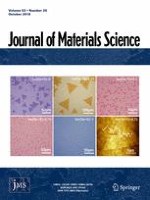 Hierarchical NiCo layered double hydroxides nanosheets on carbonized CNT/cotton as a high-performance flexible supercapacitor
Zeitschrift:
Autoren:

Tianqi Hao, Wei Wang, Dan Yu
Wichtige Hinweise
Electronic supplementary material
Abstract
Layered double hydroxides (LDHs) are promising Faradaic materials for the construction of high-performance supercapacitors, due to their unique two-dimensional lamellar structures and remarkable stability. Herein, hierarchical porous NiCo LDHs integrated with flexible carbon nanotubes (CNT)/cotton fabric current collector, are realized by a facile method, which exhibits a high capacitance of 811 F g−1 at 0.1 A g−1 in a three-electrode mode. Moreover, the hybrid electrode has been assembled into a flexible supercapacitor device, where the mass capacitance reaches 47.25 F g−1 with a good cycling stability of 94% capacitance retention after 3000 cycles. The better flexibility and conductivity of the CNT, and highly intrinsic electrochemical activity of the NiCo LDHs as well as the superiority of the interwoven structure are responsible for the outstanding performance of the supercapacitor. The elaborate structural design can provide new insights into the construction of high-performance flexible supercapacitors.