15.10.2018 | Energy materials | Ausgabe 3/2019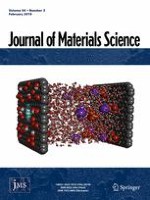 High hardness and low dielectric constant thin films with oriented urea oligomers by physical vapor deposition
Zeitschrift:
Autoren:

Masahiro Morimoto, Tatsuya Fukutomi, Yasuko Koshiba, Kenji Ishida
Wichtige Hinweise
Electronic supplementary material
Abstract
Oligomers of undecylurea (OUA11) thin films with a high crystallinity, surface hardness, perpendicular orientation, and low dielectric constant were fabricated by physical vapor deposition. The thin films were composed of single OUA11, which has a relatively high molecular weight (Mw: 2500, Mn: 1200) and could be vapor-deposited without thermal decomposition. These films had a much higher crystallinity and a high surface hardness level of 9H in the pencil hardness test. The dielectric constant of the OUA11 films is estimated to be 2.1–2.3 in the frequency range of 1 Hz–0.1 MHz, which is lower than that of typical low dielectric constant (low-k) materials. These physical and electrical properties are caused by the unique structure with the molecular dipoles-oriented parallel to the electrodes on the substrate and the strong intermolecular hydrogen bonds. The unique structure could not be observed with spin-coating and is specific to the vapor-deposited films. We expect that the OUA11 films with a high hardness and a low dielectric constant can be used not only as protective coatings but also as electronic materials.