2019 | OriginalPaper | Buchkapitel
High-Intensity Robot-Assisted Hand Training in Individuals with Multiple Sclerosis: A Randomized, Controlled, Single-Blinded Trial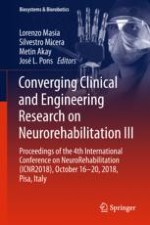 Erstes Kapitel lesen
Autoren: M. Gandolfi, N. Valè, E. Dimitrova, S. Mazzoleni, E. Battini, M. D. Benedetti, A. Gajofatto, F. Ferraro, J. Corradi, M. Castelli, M. Camin, M. Filippetti, C. De Paoli, A. Picelli, E. Chemello, A. Waldner, N. Smania
Abstract
The objective of this study is to compare the effects of robot-assisted hand training (RAHT) against non-robotic training on upper limb activity, hand dexterity and muscle activity in patients with MS. 34 persons with MS (EDSS: 1.5–8) and hand dexterity deficits were enrolled. The RAHT group (n = 17) received robot-assisted hand training and the control group (n = 17) received non-robotic training.
Training consisted of 50 min/session, 2 sessions/week, 5 weeks. Before, after, and at 1-month follow-up patients were evaluated by a blinded rater by a comprehensive tests series investigating ICF domains and surface electromyography of the upper limbs.
No significant between-group differences in primary and secondary outcomes were found. An increased amount of upper limb use and increased EMG activity in the extensor carpi were observed only in the RAHT group. Although training effects were comparable between the two groups, the RAHT demonstrated remarkable effects on upper limb use and muscle activity.