01.01.2014 | Original Paper | Ausgabe 1/2014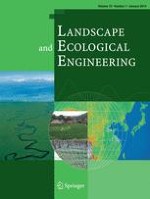 High nitrogen deposition may enhance growth of a new hybrid larch F1 growing at two phosphorus levels
Zeitschrift:
Autoren:

QiaoZhi Mao, Makoto Watanabe, Kobayashi Makoto, Kazuhito Kita, Takayoshi Koike
Abstract
A recently developed hybrid larch F
1
(F
1
:
Larix gmelinii
var.
japonica
×
L. kaempferi
) is being planted widely in re- and afforestation projects in northeast Asia. Nitrogen (N) deposition to forest ecosystems has been rapidly increasing in this region, due mainly to industrialization and overuse of N fertilizer. Together with excess N, phosphorus (P) is considered to be the key determinant of tree growth in northeast Asia, because most soils have originated from immature volcanic ash. To predict the response of the F
1
to increasing N deposition and its relation with soil P availability related to immature volcanic ash soil in northern Japan, planting stocks of F
1
were grown in potted brown forest soil and categorised into eight treatments, comprising four N treatments covering the amount of N deposition observed and predicted in northeast Asia in combination with two P levels. N application increased the biomass and the light-saturated net photosynthetic rate (
A
sat
) of the F
1
at all concentrations. Despite expectations, P did not have any effect on these parameters. As N application increased the content of potassium (K), magnesium (Mg) and chlorophyll (Chl) in needles, a positive correlation was found between the content of N, K, P and
A
sat
. These results suggest that N deposition improves the growth of the hybrid larch F
1
at least by improving the needle N condition, as well as the concentration of other macronutrients in the initial stage of plantation.