28.01.2016 | Ausgabe 3/2016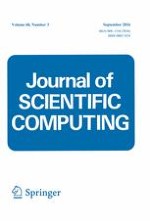 High Order Semi-implicit Schemes for Time Dependent Partial Differential Equations
Zeitschrift:
Autoren:

Sebastiano Boscarino, Francis Filbet, Giovanni Russo
Abstract
The main purpose of the paper is to show how to use implicit–explicit Runge–Kutta methods in a much more general context than usually found in the literature, obtaining very effective schemes for a large class of problems. This approach gives a great flexibility, and allows, in many cases the construction of simple linearly implicit schemes without any Newton's iteration. This is obtained by identifying the (possibly linear) dependence on the unknown of the system which generates the stiffness. Only the stiff dependence is treated implicitly, then making the whole method much simpler than fully implicit ones. The resulting schemes are denoted as
semi-implicit
R–K. We adopt several semi-implicit R–K methods up to order three. We illustrate the effectiveness of the new approach with many applications to reaction–diffusion, convection diffusion and nonlinear diffusion system of equations.