14.12.2017 | Ausgabe 1/2018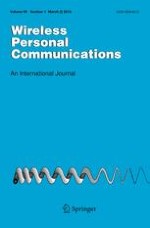 High Performance Microstrip Low Pass Filter for Wireless Communications
Zeitschrift:
Autoren:

Saeed Roshani, Alireza Golestanifar, Amirhossein Ghaderi, Hesam Siahkamari, Derek Abbott
Abstract
A microstrip low-pass filter using T-shaped resonators is designed to achieve an ultra-sharp transition band and high suppression level. The performance of the resonators is investigated based on an LC equivalent circuit and a transfer function to compute the equations of the transmission zeros. This filter has an acceptable stopband with high insertion loss (28 dB) by adopting a rectangular suppressor. Also, the width of the transition band is 0.09 GHz (with – 3 and − 40 dB attenuation levels), that exhibits a very high sharpness (
ξ
= 411 dB/GHz). The proposed filter with a 3 dB cut-off frequency (f
c
) of 1.32 GHz presents a high return loss in the passband (17 dB) and high figure of merit of 57,073. The designed filter is fabricated and measured, demonstrating sufficient agreement between the simulation and experimental results.